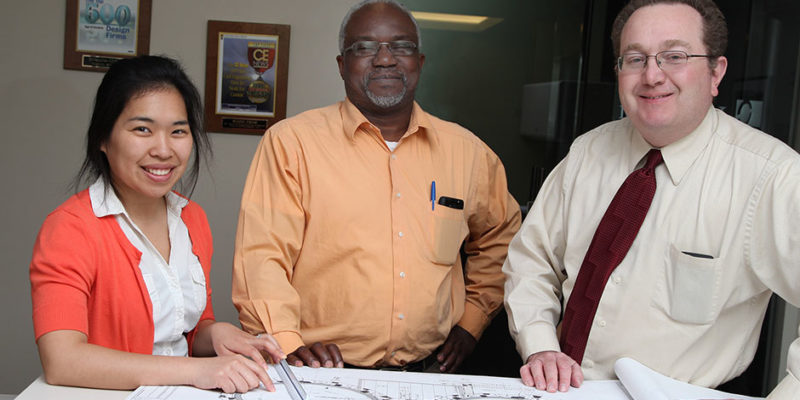 HISTORY AND FUTURE GROUNDED IN INFRASTRUCTURE
Wade Trim is proud of our municipal infrastructure roots and continues to build on this heritage. We are trusted professionals delivering America's infrastructure solutions. This is our culture, our brand and what our clients depend on. Our disciplines include civil engineering, planning, surveying, operations, landscape architecture and environmental science services.
Our staff's ability to deliver solutions is supported through a collaborative work environment that focuses on problem solving. Wade Trim's 20 offices and more than 450 staff members create a network of resources that is shared to meet specific infrastructure challenges. For instance, a traffic engineer in our Taylor office may work on a project with water resources engineers in our Cincinnati office. Mentoring between employees is important. Senior staff often work with younger employees to increase their knowledge and develop strong working relationships with clients. Diversity of expertise among employees also makes our project teams strong and flexible. In addition, we are committed to strengthening diversity in our industry by working with and mentoring minority-owned, women-owned and small businesses on projects.
Wade Trim is consistently ranked in the top 500 design firms, top 200 environmental firms and continues to be nationally recognized for innovative solutions. We are on a quest to grow, using our expertise to provide infrastructure solutions in new areas.
ENR Top 500 Design Firm
224
ENR Top 200 Environmental Firm
139
Trenchless Technology Top 50 Firm
27