A ribbon-cutting ceremony held on April 29, 2016, marked the completion of Link Detroit, a series of greenway projects that connect 20 miles of continuous walking and biking paths linking Downtown, Midtown, Eastern Market, the Detroit Riverfront and Hamtramck. The projects comprise a five-year effort by the City of Detroit, in collaboration with numerous public and non-profit organizations, to create a greener, more pedestrian-friendly City.
Wade Trim's involvement has focused on the Dequindre Cut Greenway, a 1.75-mile-long pedestrian and bike pathway that runs beneath street level along the former Grand Trunk Railroad line. The first phase of the pathway connected the East Riverfront District with the Lafayette Park neighborhood and Eastern Market. Wade Trim provided construction engineering, survey and inspection services for the project.
In Phase 2, the pathway was extended through Eastern Market to Mack Avenue. We designed improvements to four structurally-deficient bridges that link to other multimodal connection points in and around Eastern Market. The Wilkins, Division and Adelaide bridges were replaced and the Alfred bridge was removed. Wide sidewalks for pedestrians and other non-motorized users were incorporated into all the bridges. Bike paths were added at the Wilkins Street bridge and room for future bike paths were incorporated into the other bridges. Care was taken to visually blend the improvements with adjacent buildings and structures as well as other projects in the area.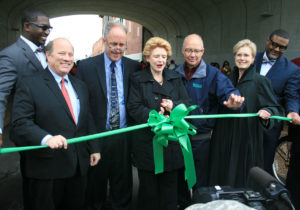 Community leaders that kicked off the celebration include (left to right) Rodrick Miller (Detroit Economic Growth Corporation), Detroit Mayor Mike Duggan, Dan Carmody (Eastern Market Corporation), Michigan Senator Debbie Stabenow, Kirk Steudle (Michigan Department of Transportation), Mariam Noland (Community Foundation for Southeast Michigan) and William Smith (Detroit Riverfront Conservancy).